1/31/19 -Shell Knob Seniors, Inc. unveiling new website!
Shell Knob Seniors, Inc. (SKSI) is happy to announce it is unveiling a new, revised and much improved web-page!  On or about February 1st, the SKSI's totally revised website, www.shellknobseniorsinc.org will be up and running.  The website  replaces the older version and has numerous upgrades.  This new, revised website will be updated regularly and include videos of current activities and programs, current lunch menus, upcoming activities, all news-related articles as well as archives of past articles and activities.  While most people associate SKSI with Central Crossing Senior Center, Mountain View Estates (MVE) is also an integral part of what Shell Knob Seniors, Inc. is about and visitors to the website can find out more about the exciting new MVE senior housing development.  The site is extremely easy to navigate.  So keep watching and be sure to log on and bookmark this web-page as it should be up and running by the time you read this article.  There are a lot of exciting things going on at SKSI and we want to be sure you don't miss any of them!  Just type in www.shellknobseniorsinc.org; bookmark the page and check it out frequently.  You'll love it!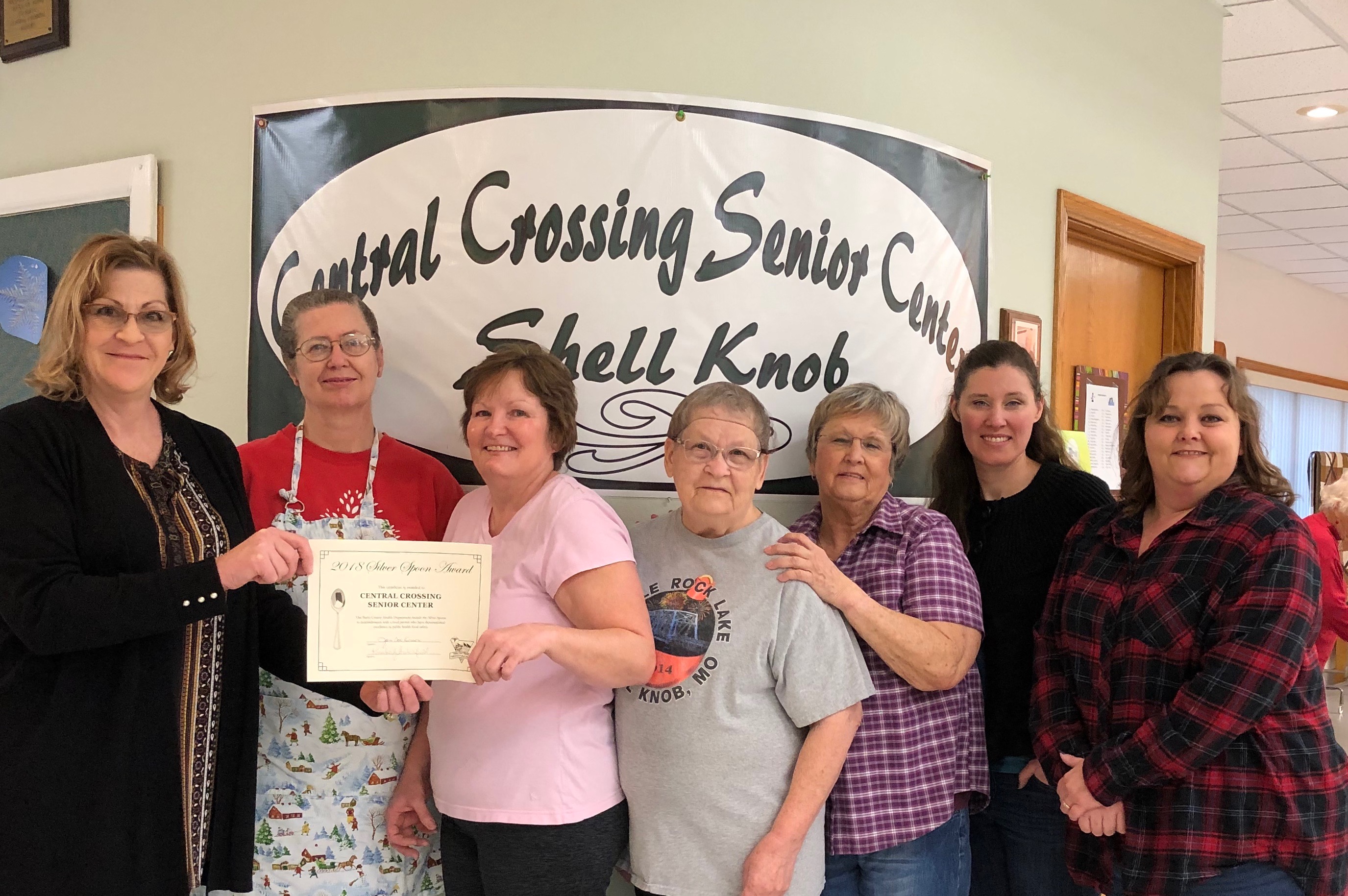 L to R: Jan Cox-Drews, Barry County Health Department; Rita Warner, CCSC; Joni Herzog, CCSC; Barbara Bass, CCSC; Judy Sell, CCSC; Kimberly Scritchfield, Barry County Health Department; Terri Johnson, CCSC Administrator
1/23/19 – Central Crossing Senior Center Earns Silver Spoon Award
by Jeff Harp
Central Crossing Senior Center was presented the coveted Silver Spoon Award by the Barry County Health Department for zero health violations in the kitchen and dining facilities for all of 2018!  This is a high honor and is only awarded to permitted food establishments which have demonstrated sustained excellence in public health food safety.  In other words, you can enjoy dining at Central Crossing Senior Center and be assured that you are eating in a safe and healthy environment.    Attaining this award is a team effort by employees and volunteers alike.  It takes training, commitment and attention to detail to attain this degree of recognition.  A big thank you to all involved for your efforts!  You have every right to be proud of your Senior Center's dining room and kitchen!  We hope to see you for a safe, healthy and delicious lunch real soon!