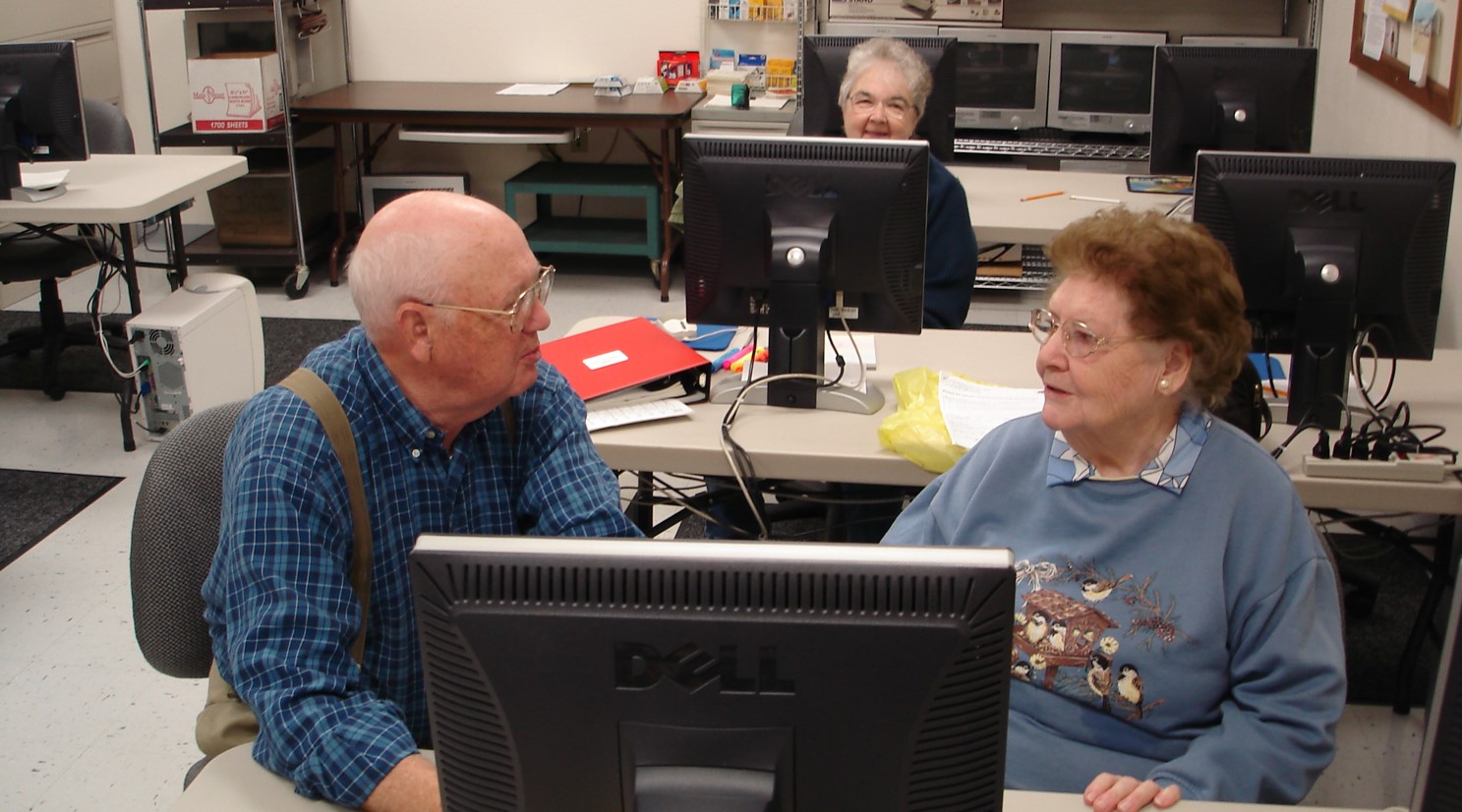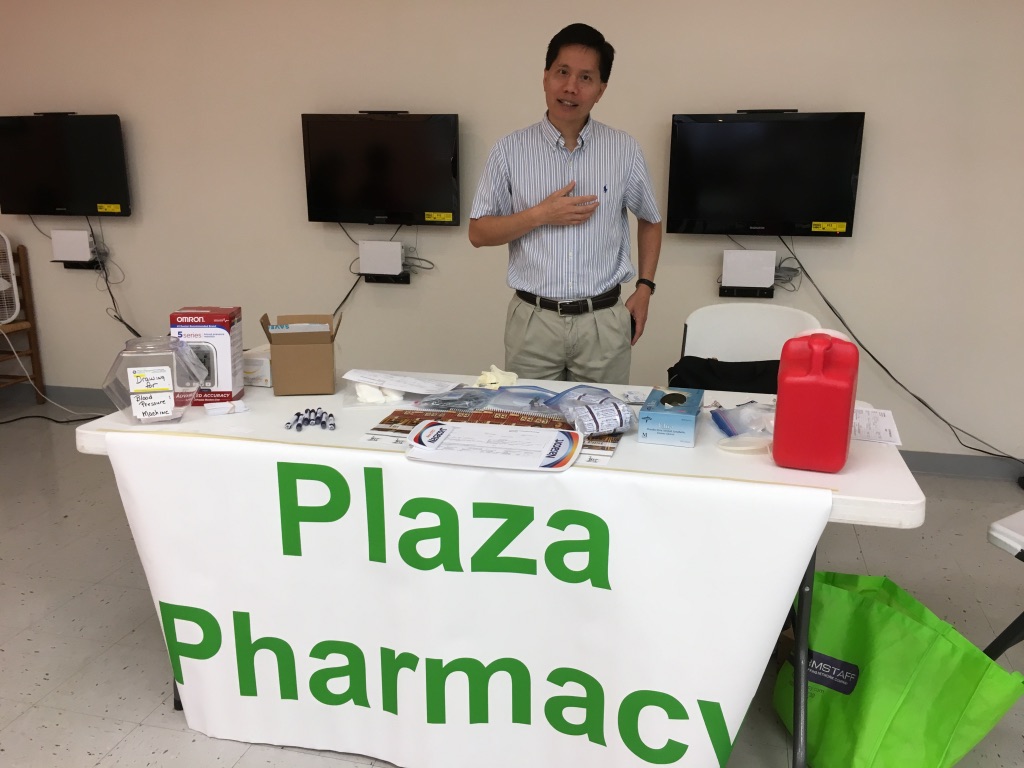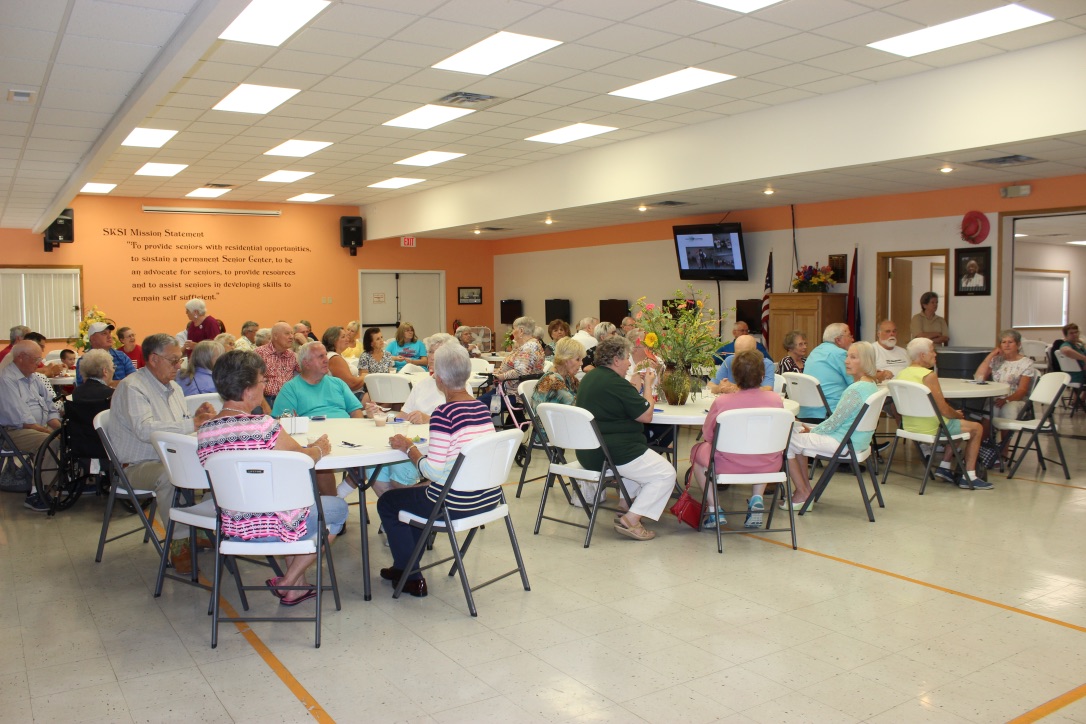 New To Medicare Seminar at Central Crossing Senior Center 

Join the Medicare Specialists on Saturday September 11, 2021 at 10:30 am to learn what you need to know about your new Medicare benefits at the Central Crossing Senior Center in Shell Knob.

Learn how to apply for benefits and how our specially trained specialists can help you choose the best plan for your needs. The prescription plans are often confusing so our specialists help is invaluable.

To prepare for the numbers attending we would appreciate it if you would call 417-858-6952 Monday through Friday from 8:30 am to 3:30 pm and tell us you are coming. Central Crossing Senior Center is located at 20801 YY15, Shell Knob, Missouri.
COVID Booster Clinic at Central Crossing Senior Center

The Plaza Pharmacy will hold a COVID Booster Clinic T Central Crossing Senior Center on Wednesday, September 15, 2021 from 9 am to 1 pm.  To get the booster you must bring your vaccination card showing which shot you received – Pfizer or Moderna.

The Plaza Pharmacy will also be sponsoring the oven fried chicken lunch that day. The Central Crossing Senior Center is located at 20801 YY15, Shell Knob, MO. Contact us at 417-858-6952. Questions about the booster should be directed to the Plaza Pharmacy at 417-858-2200.
Senior Center Safety Regarding COVID 

The Central Crossing Senior Center wants to assure our seniors that your health and safety are our top concerns and that we have taken the necessary precautions to that end.

A special disinfecting sprayer was purchased and is used regularly at the end of day; staff wipe every table and chair daily; hand sanitizer dispensers are located at each entrance; and the salad bar has been discontinued until the health department allows it to be put out again. In addition to those items, we replaced all the faucets in the building to touchless models and put foot openers on the restroom doors for minimum contact. Even the automatic door opener on the main door has been changed to a wave rather than touch.

We realize that some of you would like to have our hot meals but don't want to sit at the center to eat so please know that you can call and request a meal to go. You must come in and scan in at the kiosk but that is all. While you scan in, your meal will be brought from the kitchen to limit contact. The suggested donation for those over 60 is still just $3.50 and for people under 60, $6.00. This is for hot meals, not the frozen meals of our home delivered meals! If you have questions or concerns, please call the center Monday through Friday from 8am to 3:30 pm at 417-858-6952. You can checkout our menu anytime at 

www.shellknobseniorsinc.org/monthly-menu

.
Volunteer Day July 9, 2021

Approximately 60 people came out to help us show our appreciation for those volunteers who came and volunteered here at the center all through the COVID closure. These stalwart group helped prepare the drive-through lunches or were outside every weekday to deliver those meals. A total of 26,760 meals were passed out during our 15 months closed!

Those honored were the Outside Crew composed of Karin Stanley, Betha Pavelka, Kathy Lank, Nate Krug and the late Jerry Shelton accepted by his wife, Bonnie. Kitchen Crew and Delivery Drivers honored were Nancy Wobbema, Randa Lasley, Barbara Narancich, Marcia Jones, Kari Brown and John Jockish. Drivers Bill Fields, Anita Fields and Deb Martz were unable to attend.The Board is grateful to all our volunteers for without them we could not serve our wonderful community.
Classic Car Show June 26, 2021

The Classic Car Show hosted 16 cars at the 2021 event. Taking Third place was Joe and Mary Pat Richardet with a 1967 Pontiac GTO; Second place went to Pat and Joenie McNeill with their 1930 Ford; First place went to Milo and Jesse Riley with their 1955 Chevy. 

Peggy Kitching won the 50/50 raffle. Door prizes were furnished by Clint Bradford and Charlie & Rita Goodhead.  As with all fundraisers, many volunteered to make it a success from the Pickle Ball players who moved tables to Tom at Lawrence Trophys in Aurora who revamped the trophies. We also thank Brett and Theresa Ekerly who provided music. Jerry Pelzl was the grill master making yummy burgers and hot dogs. Rita Goodhead was the fearless leader of this intrepid band of workers. All who braved the heat had a wonderful time. Thank you to the community for your continued support.
Mark Your Calendars!

The Central Crossing Senior Center will resume serving lunches in the dining room on June 14 at 11:15 following CDC guidelines. Drive thru pickup lunches will be discontinued at that time.

Director Terri Johnson said "We are so excited to welcome everyone back to our fully operational Senior Center. We have a new cook, Stephanie, who comes to us with lots of experience and enthusiasm. She is planning some wonderful meals for you."

The lunches will still have a suggested donation of $3.50 for those over 60 years of age and a set price of $6.00 for those 59 and under.

The center is accepting new volunteers so if you are interested, come in and pick up a volunteer packet. If you have questions, please feel free to call during regular office hours of 8 am to 3:30 pm at 417-858-6952. Check out our website anytime at shellknobseniorsinc.org.
FINALY!!!
The Central Crossing Senior Center is reopening May 3! 
After almost 14 months of being closed because of COVID-19, the Senior Center is reopening for activities only. Masks and social distancing, where possible, will be practiced. 
A frozen, drive-up lunch will still be offered, however, you will have to leave the building to pick it up and eat it. No meals may be eaten in the building. A hot meal will be offered by drive up weekly but it too, must be eaten elsewhere. 
We look forward to welcoming each and every one of you back for socializing and fun. For additional information call the center Monday through Friday from 8 am to 3:30 pm at 417-858-6952. The Senior Center is located at 20801 YY-15, in Shell Knob. Check out our website anytime at www.shellknobseniorsinc.org.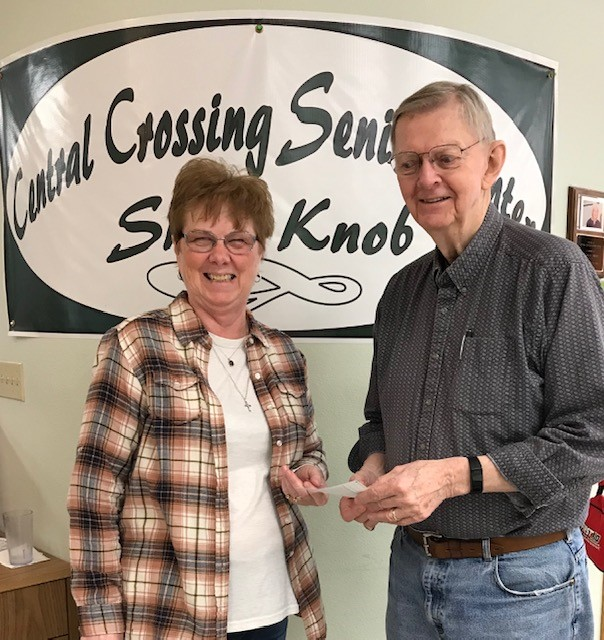 Mary Wolf, PCCW President, presents donation for Salad Bar to Jerry Arnold, CEO of Central Crossing Senior Center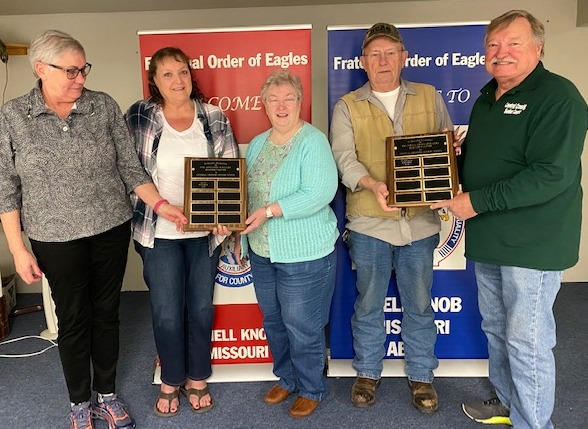 Eagles Auxiliary Carmen Engel, Becky Heob, Regina McIlrath Senior Center Partners Program Coordinator, Eagles Scott Prothero and Sam Herkelman, COO of the Central Crossing Senior Center.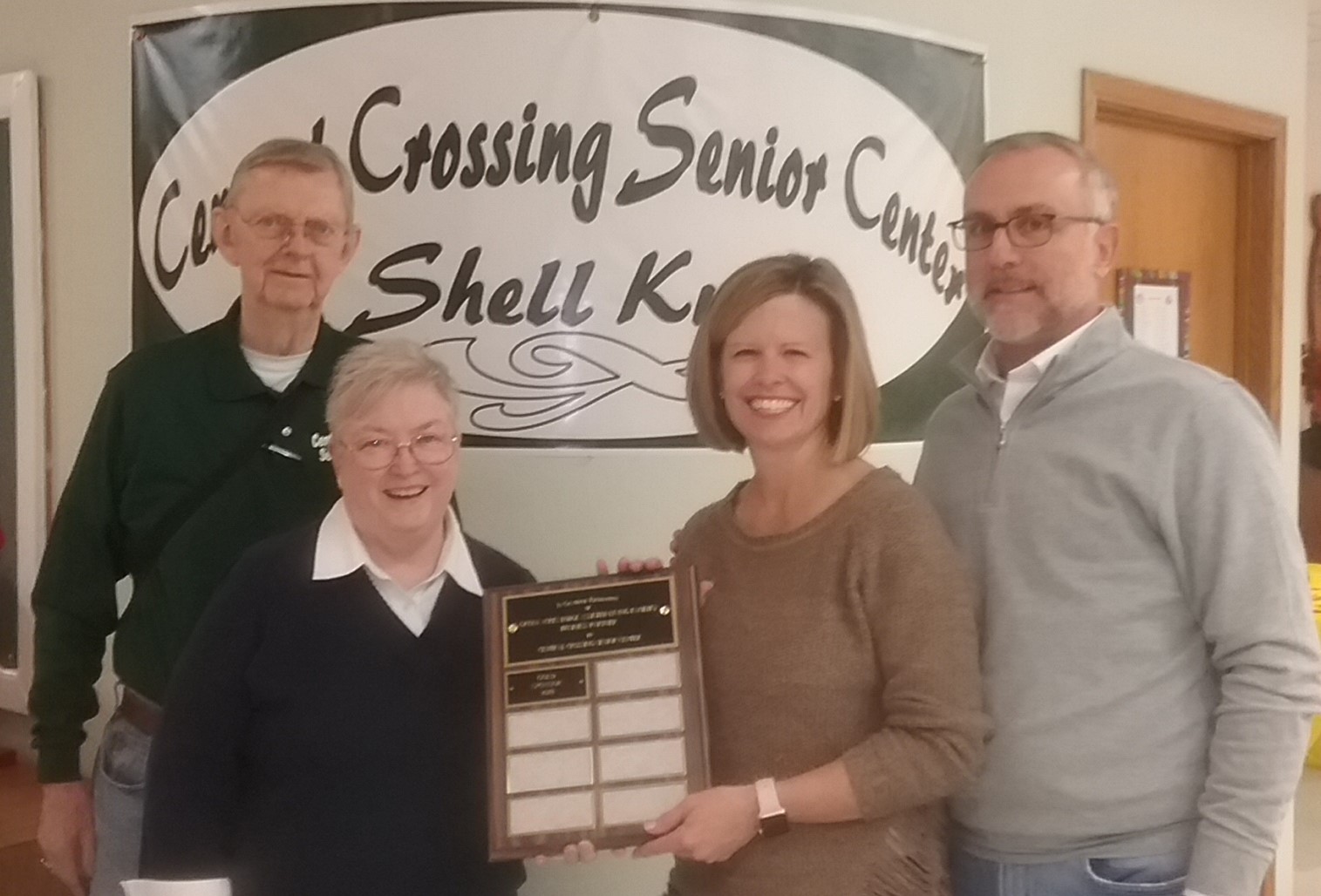 L-R: Jerry Arnold, CEO of Shell Knob Seniors, Inc, Regina McIlrath, Senior Center Partners Coordinator, Allison and Dennington Moss of Prestiqe Assisted Living, LLC. 
5/15/2020  Central Crossing Senior Center – Still Working For You!
While the doors to Central Crossing Senior Center may be closed, we've adjusted to the times and are still busy working to enhance the lives of area seniors.  Read the services described below to discover what's going on at the Center, even during the Covid 19 pandemic:
Yes, the dining room is closed, but did you know we are providing more meals now than when "things were normal"?  It's true; word is getting out that there is another option to enjoy nutritious, delicious meals other than simply dining in.  In fact, we are now averaging 800 meals per week!  Seniors have discovered these meals are tasty, good for you; and extremely convenient!  While the main entrees are frozen, they are "freshly frozen".  Thus, they are not only high in protein, they are low in sodium.  Additionally, each meal comes with milk, bread and a desert!  So at least until the day comes again when the Center reopens, why not give the frozen meal program a try? Call our Senior Center Administrator, Terri Johnson, at the number shown below for more information. 

In the meantime, the Center is continuing it's Home Delivered Meal program.  Designed for "shut ins", it is similar to the above, but the meals are delivered to the senior. 

Since so many seniors are staying home these days, it is easy to feel, "I've been forgotten" and it can be comforting to receive a call from a friend who cares.  With this in mind, and because we do care,  Central Crossing Senior Center has re-instated its telephone reassurance phone calls.  This service is pretty straight-forward:  During this time of social distancing, someone from Central Crossing Senior Center's friendly volunteer phone staff will call you each week.  Our purpose is just to make sure you are staying well, that you have plenty of supplies, and to reassure you that this too, will pass!   

Lastly, Senior Age Area Agency on Aging (Senior Age) has a free alert program you may be interested in.  This is a program that provides you with fraud alerts as well as disaster service notifications, and helpful senior living tips; even information as to when and under what circumstances the Center will open again.   
You are encouraged to call our Administrator, Terri Johnson regarding any or all of the programs listed above.  Terri can be reached at 417-858-6952 between the hours of 8:00 a.m. to 3:30 p.m.  
4/15/2020    Central Crossing Senior Center – Still Here When You Need Us
One of the main functions of Central Crossing Senior Center has always been to provide nutrition to area seniors.  While access to the Center is shut down during the Corona Virus Pandemic, some vital services remain.
For instance, did you know that in addition to Home Delivered Meals, during this phase of the pandemic, the Center is also offering frozen entrée drive-up meals?  They are. In the one month period beginning March 16th, over 1100 freshly frozen meals have been provided to area seniors.  Additionally, over 400 home-delivered meals have been distributed.   That's virtually 1500 meals going to area seniors!
All meals are ready-to-heat and include a freshly frozen entrée and vegetables, as well as milk, bread and typically a desert.  It's a great way to get a nutritionally balanced meal, and it's ready to eat in about 4 minutes.  Unlike most store bought frozen meals, these are NOT loaded with sodium as a preservative and in this writer's opinion, much healthier and fresher.
We are concerned about the health of our area seniors and encourage you to try the drive-up option if you haven't already done so.  Just call Terri Johnson, Central Crossing Senior Center Administrator at 417-858-6952 during business hours and she'll tell you all you need to know about this wonderful service pending the long-awaited re-opening of society in Shell Knob and the rest of the country.
2/26/2020 Parish Council of Catholic Women Show their Support for Shell Knob Seniors, Inc.
Mary Wolf, president of the Parish Council of Catholic Women at Shell Knob's Holy Family Catholic Church recently presented a generous gift to Shell Knob Seniors, Inc. This donation is intended to support the delicious salad bar available to everyone who enjoys lunch at the Central Crossing Senior Center, Monday through Friday from 11:15 to 12:30.  Accepting the donation is Jerry Arnold, Chief Executive Officer, Shell Knob Seniors, Inc.
Thanks to the generous support of area seniors, volunteers, business partners and local entities, such as the Parish Council of Catholic Women, Central Crossing Senior Center, is able to meet the needs of area seniors on many levels.  If you haven't been to the Senior Center, or if has been a while, we invite you to come by – come see what hundreds of local residents enjoy on a weekly basis.  From lunches to services and recreational activities; there's something for everyone!
2/24/2020
Fraternal Order of Eagles and Auxiliary Partner with Central Crossing Senior Center
The Fraternal Order of Eagles of Shell Knob and the Auxiliary recognize the value of the Central Crossing Senior Center adds to our community.
2/4/2020 Assisted Living Continues Partnership
Prestige Assisted Living LLC of Holiday Island AR, has continued their partnership with Central Crossing Senior Center of Shell Knob. Our partners understand the value our senior center adds to the community and support our efforts to help seniors stay self-sufficient.
Prestige Assisted Living provides a homelike atmosphere allowing their residents to be as independent as possible in a safe and healthy environment since 1992.
The Central Crossing Senior Center is open Monday through Friday from 8 am to 3:30 pm and offers a wide range of activities and services as well as a hot, nutritious lunch starting at 11:15. Visit our website at 
shellknobseniorsinc.org
 or call 417-858-6952 for information.
Total Page Visits: 7 - Today Page Visits: 1